Project
Goals
"Wilton, CT is a great place to live." That's the motto for Good Morning Wilton, a daily news website that highlights the best parts of living in this small town in Southwest Connecticut. When Good Morning Wilton Founder and Editor Heather Borden Hervé came to Web Publisher PRO, it was because she was looking for a complete website refresh.
Mobile responsiveness was just one of the upgrades that Good Morning Wilton was looking for. The Good Morning Wilton website used an outdated WordPress theme that required a plugin to generate a mobile version. The plugin helped smartphone users get on the website, but it also limited the user experience, which meant the outdated WordPress theme had to go.
Good Morning Wilton was looking to convert its ad server from OIO to Broadstreet, with the goal of moving from a self-hosted solution to a hosted solution.
Finally, with the understanding that more than half of web traffic now comes from mobile devices, like smartphones and tablets, Good Morning Wilton was searching for a way to deliver more content to users, with a better content flow and more intuitive website organization.
Project
Solutions
How do you meet so many demands on a limited timeframe? We started by implementing a customized WordPress theme for Good Morning Wilton, which delivered an easy-to-manage, modern, and responsive website. Working closely with the Good Morning Wilton editorial team, we were able to organize the publication's home page content so that readers can easily find the latest articles and navigate the archives.
One of the most innovative new features we added to the website was a Mega Menu. The new Mega Menu expands to allow visitors to preview the latest content from each website section before they click. This makes it possible for readers to discover new content faster, without having to wait for each article page to load.
On the ad serving side, we migrated the Good Morning Wilton website to Broadstreet, making it possible for the publisher to offer the entire Broadstreet ad format library, along with advanced tracking metrics, to local advertisers. Migrating to Broadstreet resulted in more efficient ad placement and better mobile optimized ads, which has increased overall impressions.
FROM
THE CLIENT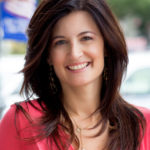 Heather Borden Hervé
Founder & Editor
It's very reassuring working with Web Publisher PRO. They know our hyperlocal news website business and industry well, and they know the resources to help improve how we run our business. Plus, they work fast and efficiently and collaborate effectively. It's good to know we have the go-to people we can rely on.